About the Center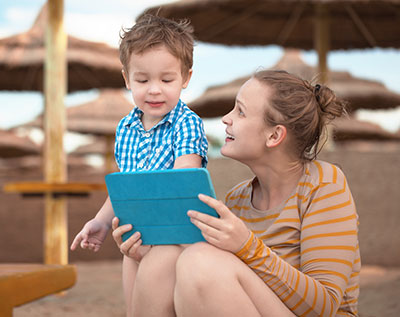 The Center for AAC & Autism was established in 2009 by the Prentke Romich Company (PRC) to serve as a resource for those working to improve the language and communication skills of kids with autism.
Our mission: "To improve awareness of the power of alternative and augmentative communication (AAC) devices to change the lives of children who are nonverbal or have limited verbal abilities due to autism and other developmental disabilities."
The Center for AAC & Autism is staffed by a team of highly experienced therapists who, using AAC, have taught individuals to independently and spontaneously express themselves. In turn, we provide therapists, educators and parents with:
Specialized training on language development strategies utilizing AAC
Information tools and additional resources
Supporting clinical research aimed at the effective implementation of AAC
Our History
The LAMP™ methodology was developed out of the clinical practices of John Halloran, MS, CCCSLP, Cindy Halloran, OTR/L, and Mia Emerson, M.S., CCC‐SLP.
In their clinical interactions with nonverbal individuals with autism, they found that giving them access to core words on a speech generating device, teaching those words in sensory‐rich activities, and accessing each word on the device with a consistent, unique motor pattern provided a means for developing independent communication.
In 2004, pilot studies to measure treatment outcomes were done by Paula Herrington at CLASS, Inc., in Federal Way, Washington and Dr. Dennis J. Campbell at Arkansas State University. During these studies, participants demonstrated the ability to become proficient with independent use of the words they were taught on a device in just a few sessions.
Intrigued by the results, PRC encouraged beta testing on the approach in areas around the country – with positive outcomes. By 2007, with the encouragement and support of PRC, a training program was created and the LAMP Training classes were implemented with hundreds attending each year.
By 2009, the overwhelming response led to the formal creation of The Center for AAC & Autism. The Center conducts multiple LAMP training classes across the country each year, provides clinician support and serves as a resource for parents of children with autism.