The Story of How My Nonverbal Child Learned to Communicate
By Emily Renee Barton
As a mom to a child who is nonverbal, I've felt so heavy for what life was supposed to be like. When I pictured having a baby, I pictured a typical developing child. I anticipated hearing "mama" as her first word and melting at the sound of her sweet little voice.
This wasn't the case for us. I've never heard the word "mama," or any word for that matter.
When Jaxlee wasn't hitting her milestones as a baby, my heart broke and I worried about what that meant for her- and our- future. I became obsessed with every milestone and tried to figure out why she wasn't hitting them.
We knew we needed speech early on, but our therapy clinic didn't start speech services until she was at least 1. Needless to say I couldn't wait for her to turn one so she could start speech. I thought if she started speech, surely this would help her start talking, right?
Once we started speech therapy, we were devastated to learn that she wasn't making any progress. None at all. How could this be?
I would hear stories of friends' children who started speech therapy, and then would just take off with their verbal language and graduate from the program. How come this was not the case for Jaxlee?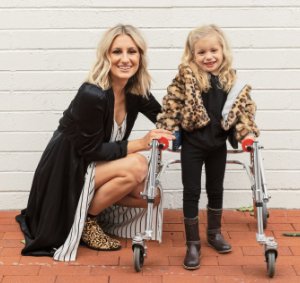 The more time that went on, the more I grieved her inability to be verbal. She couldn't tell me simple things like she was thirsty, needed a hug, or wanted to play dress up. I became an expert at her body language and the little sign language she could coordinate to tell me something. I could tell exactly what she wanted from a mere glance she made. But in the real world this wouldn't be enough. She deserved more than this. She deserved to be heard.
When she was about 2.5 years old, her speech therapist recommended getting an AAC evaluation. AAC is short for Augmentative and Alternative Communication. There are several different types of AAC, but for Jaxlee, we use a tablet with the program LAMP Words for Life. For short, we call it her "words." That way she knows to use her "words" to use words.
I said sure, it wouldn't hurt and if it can be done in the clinic and doesn't require more work for me, even better! She had the evaluation and was considered a candidate for AAC.*
I was hopeful at this opportunity and completely overwhelmed all at the same time. What does this mean for her? What does this mean for me? Put concisely, it meant A LOT more work for the two of us.
After jumping through some hoops with the therapy clinic and AAC company, Jax was given her first device to borrow so we could see what AAC program was best for her. I have to be honest, when we got the device I just lumped it in with her AFO's (Ankle/Foot Orthotic – Jax's leg braces), her walker and her wheelchair. We carried it with us wherever we went and she took it to her speech therapy 3x a week but that was about it. I wasn't invested, I wasn't committed. I was completely overwhelmed with my load and everything I was already doing to care for her, I couldn't possibly add one more thing to my list. Or that's at least what I told myself.
It took time. And it also took some desperation for me to get on board with the whole AAC device thing.
The day Jax turned 3, she was off to school for early intervention. She got a new device through school with the LAMP Words for Life program on it. This is where the magic began.
Not everyone on her "team" was on board, but that is just how special ed goes. Thankfully I had/have some amazing support through our private therapy clinic, people who really knew my daughter and believed in her abilities.
While Jaxlee was at school (5 days a week 6 hours a day) her teacher and aid started using her device with her in addition to her private speech therapies. The first time her therapist told me she used the AAC to communicate, my ears and eyes perked up. I couldn't believe it. This thing really works? Jaxlee really can learn how to use it to get her message across? My heart was starting to open up to AAC and the world I would soon fall in love with.
Fast forward to today. Jaxlee is now 6 years old. After a ton of speech therapy, a lot of time and investment on the device from us both, and attending multiple LAMP trainings, Jaxlee has been given a voice through LAMP Words for Life. She is in a general ed Kindergarten class where she fully participates in her class through her AAC. She can communicate things that we had no idea she knew.
And she has told me things like, "water please" and the best of all, "I love you."
Today in fact, she was able to play a game with friends and have full freedom over what she said and chose. To me this is what makes it all WORTH IT. Yes it's still so hard, and yes it is so frustrating sometimes. Both she and I have to do 10x the work that your average 6 year old does, but guess what? She doesn't complain. She doesn't care. She just does it.
So wherever you are on your journey with AAC, give yourself time and grace. Allow yourself to feel what you are feeling and grieve what you are grieving. Keep your eyes and heart open for the next best opportunity for your child. You never know it could just change both of your lives!!
*After a lot of training and reading on AAC, I want moms and therapist to be clear, that ANYONE is a candidate for AAC. According to the Center for AAC & Autism, "There are no cognitive prerequisites for the implementation of the LAMP approach as intervention can begin at the cause and effect level and systematically build upon the stages of natural language development," The Center for AAC & Autism.
So if you or your child is told they are not a candidate, or not capable of using an AAC device, I would absolutely challenge that and advocate for an eval. Every child is a candidate for AAC!
---
This article originally appeared on Emily Renee Barton. Reprinted with permission.