Kaylin is like many 8 year-olds: Favorite color? Purple. Musical artist? Ed Sheeran. Movie? Beauty and the Beast (the live action, of course – not the cartoon!).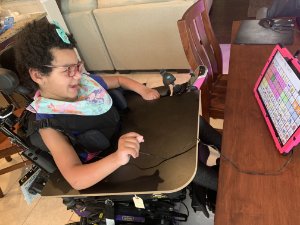 But what sets Kaylin apart is that before this year, she wouldn't have been able to tell you any of these things. Kaylin has cerebral palsy, and along with a complex body is unable to communicate vocally; however, this past fall thanks to assistive technology she has finally found her voice.
In August, thanks to the Increasing Capabilities Access Network (iCAN), Kaylin was given access to several Augmentative and Alternative Communication (AAC) devices . Because Kaylin's complex body makes it difficult to select icons with her hands, she accesses her device through automatic scanning with a switch mounted next to her head. After trying several vocabulary systems, she selected LAMP Words for Life, and once her selection was made, teachers, therapists, and family started teaching Kaylin her new way of communicating.
In just one session Kaylin was asking her mom for a "magic wand" like Elsa's, and letting therapists know that the activity they selected was "boring." Given access to assistive technology, Kaylin found her voice, and wow – was she ready to use it!
Thanks to insurance, Kaylin was able to purchase an AAC device which is pink and the perfect accessory to her pink and purple motorized wheelchair. Now, Kaylin can not only tell you her favorite color but her thoughts, wants and needs.
Thanks to AAC the world is getting to know the true Kaylin: A smart and sassy little girl who has big opinions and is ready to share!
On April 14, 2021, National Assistive Technology Awareness Day will celebrate and bring attention to the critical role that assistive technology (AT) plays in the lives of people like Kaylin. The day will also recognize and commemorate AT specialists and program coordinators for their hard work and dedication to serving individuals with disabilities seeking proper AT to meet their individual needs, along with professional organizations and researchers dedicated to facilitating the access and acquisition of AT for individuals with disabilities.