As told by Karla Strite, Special Education Teacher-Life Skills Support
Jonathan came to my class in the fall of 2018 at the age of 12. While he had a VOD that was rather simplistic, it had obviously met his needs up to this point; however, he often had to be prompted to use it.
The next school year (19-20), I started talking to our speech therapist about LAMP Words for Life for Jonathan, because throughout the year we were constantly adding things to the machine and would soon be at its limit.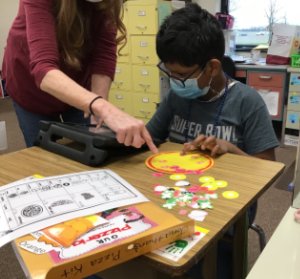 Despite the shutdowns for Covid 19, his therapist worked on the paperwork and Jonathan got his device in the summer of 2020.
The speech therapists worked with Jonathan on using LAMP Words for Life and also helped the staff to learn things, too. He was so excited to use his device, and we started to see some spontaneous communications like telling us "lunch" when he felt it was time for lunch.
The team had worked on conversations using LAMP in speech sessions, and Jonathan was seen at one point, outside at breaktime, having a "conversation" with his friend from speech.
While school was in person most of the school year (except for 2 one week long closures and some quarantine times), he was able to continue to learn on his new device. The times that we were virtual Jonathan still had speech sessions, and participated in class online using his device.
---
---
I failed to mention before that if things weren't complicated enough, he comes from a Spanish speaking household. Thankfully LAMP Words for Life has an easy press of a button to use Spanish.
It's November, 2021, and Jonathan is now 15 years old and showing a great deal of maturity. He is now a much more confident young man who is eager to participate and talk using his SGD and sometimes even his voice. What a difference from the little boy he was with little speech, little confidence and lots of frustration in communicating!
Jonathan has always wanted to learn, and is always willing to take chances and try his best to communicate. The team of speech therapists, classroom staff, and Jonathan's mother are all on board, encouraging him to use his device and to speak.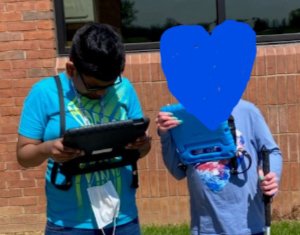 We are seeing it happen. It is amazing. Jonathan uses his device once in a while with friends. He is more comfortable if the friend has a device as well, though. He uses the device in class to read vocabulary words, read simple books and to count and recognize numbers. He continues to struggle recognizing numbers if asked, "Show me the number 9." However, if given a choice of 3 numbers then he will type them in and the voice output helps him know if he has chosen the right one. He can match what he has heard. He has improved his counting and one to one correspondence by placing one finger on an object then "naming it" 1, 2, 3…using his SGD.
He has even shown knowing a difference between the words like in and on when reading a book, because he can find it on LAMP Words for Life. If given a bunch of words he would not be able to choose those words unless he could type them in. Jonathan types in his entire calendar template each morning. After LAMP Words for Life says it, he then reads it aloud using his voice.
A whole new world has opened up for this young man. Every day he is learning so much and taking some chances too. He still requires a lot of prompting and has areas to improve upon, but we are seeing more and more of his ability rather than disability using LAMP Words for Life.