We are Lindsey Giddens and Karen Souter, a Special Education Teacher and an SLP, respectively, at Lee County Elementary School in Leesburg, GA.
In March of 2017, we were introduced to the LAMP™ methodology through a training our system set up with our amazing PRC representative, Jennifer Thomas. The focus on core vocabulary and motor planning sounded like a good fit for our students who had limited success with other AAC systems we had used in the past. We downloaded the LAMP Words for Life® app on our therapy iPads and began using it in the therapy room.
We quickly saw success with most of our students, who were functionally non-verbal, and most of whom are on the autism spectrum. We decided to begin an AAC co-teaching group within the special education classroom, with students in the moderate to severe range of intellectual functioning.
The success we have seen is amazing! We currently have 6 students in class; four of them have their own personal device and one is currently awaiting funding.
Most of our lessons revolve around a specific book we have chosen. We decide on the core word or words we want to focus on with the book, and integrate the state standards, IEP objectives as well as the speech/language objectives in our lessons. As the teacher reads the book to the students, the SLP and paraprofessionals model the core words for the students. One student requires hand over hand assistance with only one or two buttons visible; some require gestural and/or verbal prompts; and some have become more independent and require only verbal prompts.
Suddenly Spontaneous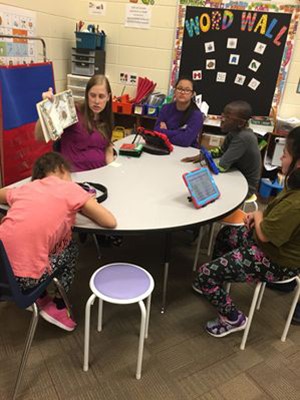 We are beginning to see more and more spontaneously produced words and phrases. In addition, most of the students have become more verbal, which is wonderful! One student, who is severely autistic, has been with us for 4 years and has never verbalized words until this year. Another student whose only verbalizations 2 years ago were echolalic, is now verbalizing with communicative intent.
Not only are the students using LAMP Words for Life during the co-teaching lesson, they are using their devices all throughout the day in the special education classroom for all academic activities. One student loves to spell his sight words on the device!
Learning and Loving It
The SLP also follows up in small group therapy once a week in the speech room with an activity related to the book and core words used during the co-teaching lesson. At the end of each therapy session the students, who all love watching YouTube song videos on the big screen, get to use their devices to request videos and to direct the SLP to turn it on when she pauses the video. You have never seen so much intentional use of a device as when you pause The Wheels on the Bus!
LAMP Words for Life has opened up so many possibilities for our students. One student was able to express that his tooth hurt. In the past, he would have just been upset and cried without the teacher being able to determine the cause of his behavior. Another student was able to express to her mother during a medical visit why she was upset. In both of these instances, the students used words they had found incidentally on their own during down time, without being taught by us. It's amazing!
We are so pleased we found LAMP Words for Life!