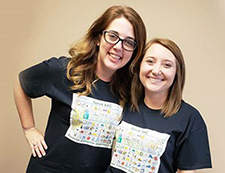 Meet Lynsey Lobdell, M.S., CCC-SLP. Lynsey is a speech-language pathologist who specializes in supporting children with complex communication needs using augmentative/alternative communication. Lynsey holds a Bachelor of Science degree in communication sciences and disorders from the University of Arkansas and a Master of Science degree in Bilingual Speech-Language Pathology from Arizona State University. She is fluent in English and Spanish and holds an English as a Second Language Endorsement from Arkansas Tech University. Lynsey has worked in a variety of settings including the public schools, early intervention, home health, and private practice, and has served on the Board of Directors for Autism Involves Me since 2014.
Lynsey currently works in private practice at Children's Therapy T.E.A.M., where she developed a comprehensive Augmentative/Alternative Communication Program in 2013. The AAC Program focuses on family support, collaboration, and improved community awareness for improved communication outcomes. The program serves individuals from birth to age 21 with a variety of diagnoses, including cerebral palsy, autism spectrum disorder, Down syndrome, apraxia of speech, and a variety of others. She first attended a Language Acquisition through Motor Planning™ (LAMP) workshop in February 2016, then hosted one at her facility in July 2017. She became a LAMP Certified professional in January 2019.
"AAC is not for the faint of heart."
I'll never forget when a colleague said this to me at a consultation. As someone who works with many individuals with complex communication needs and many forms of AAC every day, I think AAC is fun and exciting, but it's not uncommon for families and colleagues to share that AAC can be stressful and scary. However, if you can remember "Get Ready, Get Set, Go!," you'll be set up for success!
Get Ready!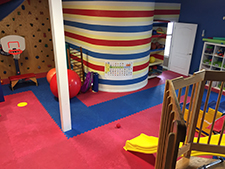 One of the key components of the Language Acquisition through Motor Planning (LAMP) approach is "Readiness to Learn." To help your AAC user be successful, you need to make sure they are READY! Here are a few things to consider:
You may need to provide sensory input, modify the environment to help them successfully engage in an enjoyable activity without distraction, or change up the activity frequently. Some of my favorite activities include:

Swings, trampolines, slide, or other activities that involve movement
Bins with rice/beans, water beads, kinetic sand, or other sensory rich material
Water play

Make sure you know what the individual likes and have it readily available. If a learner switches between activities for short periods of time, that's okay too!
Consider the task difficulty and make your expectations clear to the learner. You may need to adjust your expectations to allow the child to experience success and/or challenge within a short timeframe.
Get Set!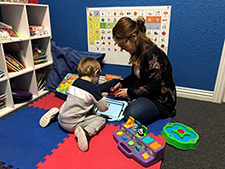 Another vital component of the LAMP approach is "Consistent and Unique Motor Patterns." This means that the location for each word in the device is consistent. Use of motor planning allows us to develop automaticity with finding words, so we can spend more time thinking about WHAT we want to say instead of WHERE it is in the device. Here are a few tools to "Get Set":
Make the "Word Finder" tool your best friend! Before teaching new vocabulary or introducing AAC for the first time, make sure you are familiar with where the words are located on the device. It can also be helpful to select a small set of target words to focus on when you first get started, then add words as you feel more comfortable.
Utilize low tech supports such as wall charts or core boards to support learning across activities and immerse the AAC user in language. Get creative with this- we even had T-shirts made!
"Vocabulary Builder" is a feature in the Words for Life application that allows us to teach a smaller set of vocabulary without disrupting motor learning. If your learner seems to be struggling to learn the vocabulary with all of the words showing, you can utilize this feature to decrease the visual clutter and promote success. While it's a great feature for setting up for success, make sure to allow the individual time to explore all of the vocabulary as well!
GO!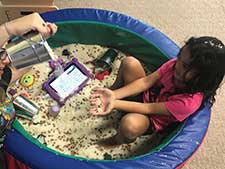 Since the core of communication is connecting to one another, perhaps the most important component of the LAMP approach is "Joint Engagement." We want to keep activities engaging and fun, so that the AAC learner will want to "GO" with us.
While it's important to be prepared, spontaneous communication cannot always be predicted! If your learner is interested in something else or an incidental learning opportunity occurs, don't be afraid to follow the individual's lead! This is an excellent time to use modeling to show your learner how to use language across a variety of activities.
Keep your learner interested by introducing new and surprising activities! Here are a few of my few of my favorite toys:
Rocket balloons
Sticky bubbles
Wind-up toys
Ned's Head
Pop the Pig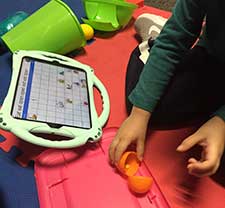 Use the learner's interest to expand language. In the picture below, the learner was highly interested in eating M&Ms. He quickly mastered saying "eat." To expand language, the M&Ms were then placed inside plastic eggs to target the word "open." Other potential language targets could be "help," colors, or spatial words. You could even leave some of the eggs empty and target the following: empty, different, more.